Your business needs a powerful and professional website. If you are not a developer yourself, it is better for you to hire a professional website development agency. As you know, there are a lot of companies in the US that offer their services, so choosing the best one might not be that simple. Let us tell you more about how to choose the perfect agency and how IT Rating could help you with it.
How to Get a Professional Website?
Well, you have three ways:
Find developers in your company

. If you are a young IT agency or company that works in this field, some of your workers probably know what website development is. Ask them to create a site for you or ask other workers to find people they know that can handle this task.

Use a freelancer's help

. You can find experts who know everything about site development through freelance services. Sometimes they offer quality that can be compared to huge companies with a great experience.

Contact a professional agency

. The guys here know everything about how to create a solid quality website. They are real professionals with a wealth of experience and knowledge of IT and website development, as proved by many successful completed projects and a lot of positive feedback.
Yes, professional agencies may take much more money than the average freelancer. But the one thing you should understand is that there is a chance that freelancers may not have the required tools that would allow them to create a website that solves all your clients' problems. If you need a powerful project in a short time, you should hire a professional agency.
You have every chance of hiring a perfect website development company if you follow the recommendations below.
The Best Option: Use Trusted Platforms
With reliable platforms, you can find a professional agency quickly. All you have to do is to look them up in the directory of the best companies that work in a specific field, see their strong and weak sides, and decide which of the listed companies fits you the most. Let's take a look at the most popular platform in the US that can help you with your decision.
GoodFirms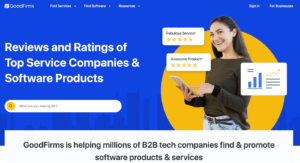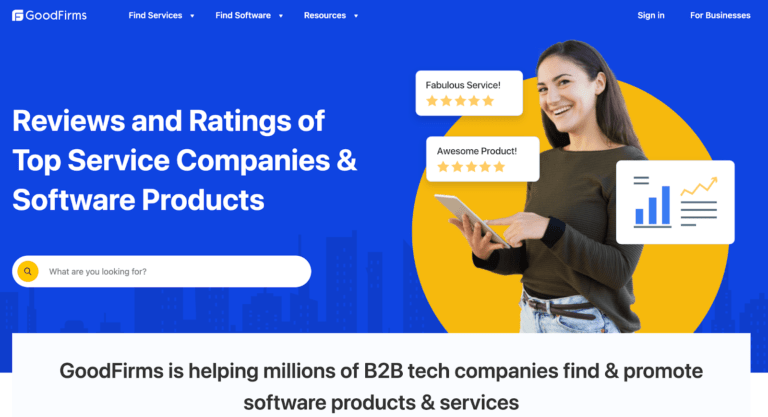 GoodFirms is the most trusted ranking service that allows you to compare various companies and software products in case you want to choose the perfect one. With the help of GoodFirms, you can see the most reliable web development companies, see their portfolio, cases, weak and strong sides, and decide which agency offers the most profitable service. GoodFirms has a verified portfolio, honest reviews, and useful ratings.
Clutch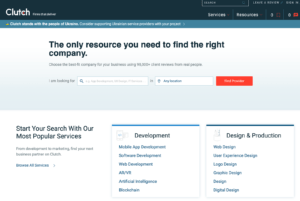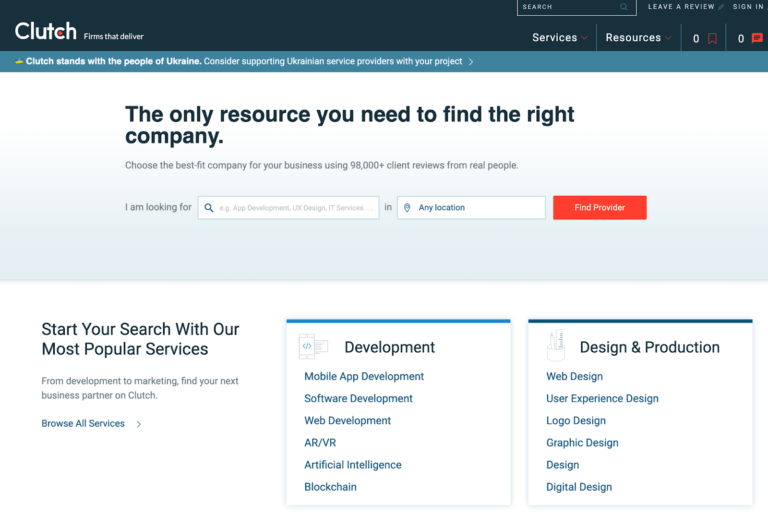 Clutch is the most popular B2B site that ranks many companies. On Clutch, you can see the list of companies that offer the best services in the field of web development, read their reviews, and find reasons why you should cooperate with them. Clutch is trusted by many businessmen and agency owners because it allows them to choose the most reliable company.
Awwwards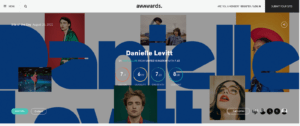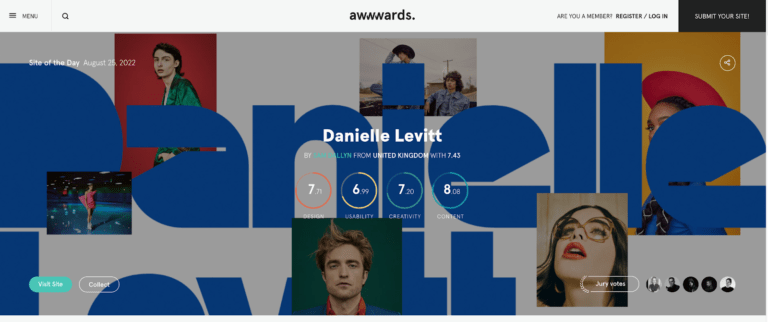 Awwwards' goal is to provide a chance for web developers, designers, and other specialists to become noticed and find a customer to complete a project of any difficulty. Awwards is the most trusted platform that allows you to read verified reviews and see an agency's achievements. With this site, you will probably find a perfect agency that is ready to help you with website development.
IT Rating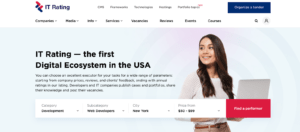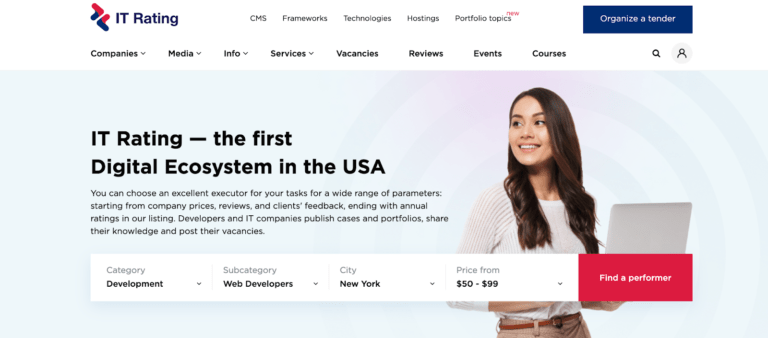 In comparison to the platforms mentioned above, IT Rating is more than just a site that ranks companies. The IT rating is a whole digital ecosystem, the first in the US. Using this platform, you can not only find contractors for creating a website but also use other services. IT Rating offers cloud-based solutions that help you choose companies based on your personal preferences. The platform uses a unique formula that automatically sorts companies in order of their reliability.
Only reliable agencies get into the rating, so you do not need to worry—in order to get into the IT Rating's rating, the company must pass a strict check. IT Rating also offers services such as information about news in the world of IT, to always stay up to date on developments on the site. It Rating will notify you of upcoming interesting events and conferences, as well as provide advice on how to select a quality website development company.
Criteria You Should Follow
Let us briefly explain what criteria you need to follow in case you want to choose the most perfect web development company and compare it among others.
Feedback and Recommendations
Reviews are the first thing you should pay attention to when choosing a company. They can immediately tell how a quality company does its job. It is important to distinguish between real reviews and custom-made ones. For this, constructive criticism should be present in feedback; there should not be banal praise; everything should be painted accurately and to the point. It makes sense to ask your colleagues and acquaintances for advice; maybe they will recommend an excellent company that they have tested.
The Cost of Your Idea's Realization
The price sometimes immediately says what the company is like. If the prices are too low, then either the company is still young or it provides poor quality services. If the prices are too high, then something may be wrong with the agency. The best option is to contact companies that offer the best prices for their services, which are equal to the market average. However, it is worth remembering that the better quality you want to get, the more you have to pay this is a kind of unspoken law that applies in any business area.
Convenient Payment
The main rule that applies in the IT business is that you never need to pay in full for a project that has not yet been completed. Yes, you need to pay an advance—this is a certain percentage of the total cost of the project. Having received it, the company will immediately begin to fulfill the order. The conditions for receiving an advance, its cost, and return conditions should be discussed personally with the companies when drawing up the contract since there are no fixed conditions in the IT business. You also need to agree on a convenient payment model: in what parts, as well as in what specific way, the company's work will be paid. This is the same serious step toward collaboration as the others.
Company Crew's Qualification
In any solid company, the website development crew consists of high-class workers that do their work perfectly. Usually, they can do any project, even if it is too difficult to realize. They have all the professional tools and a lot of knowledge. Cooperating with qualified specialists not only saves time but also is rather productive and insightful. To be sure that your project is under the qualified crew's responsibility, just visit the agency's website, or contact them directly by e-mail or phone. See their Linked-In profiles, their completed projects, and any other achievements proving that they are real specialists in the field of website development.
Portfolio
The portfolio says a lot about the company. If they do really cool projects, they would not hide them — usually, you can see the portfolio on an agency's website. The portfolio also allows you to envision the outcome if you decide to work with this agency. By looking at their work, you can see how a professional company makes its work and what tools it has to achieve the best result. If you see a solid portfolio, it may be the reason why you should work with this agency. But if there is no work, or if they are low-quality, the best decision for you is to ignore this agency.
In conclusion
Thanks to this article, now you know much more about how to choose the best web development company and how IT Rating may be helpful to you. Using the recommendations mentioned above, you will find the best agency that will create a powerful website that will solve all your business's problems. But don't forget about IT Rating, the company that is always ready to help you on your business journey and provide you with high-quality digital services.